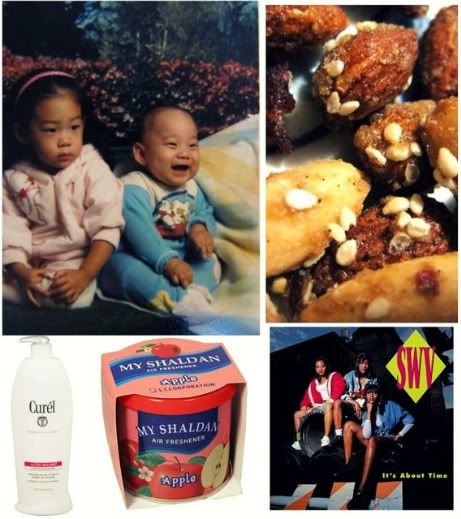 See:
I've been home for the past few days and have been finding myself excavating cabinets and rummaging through old photo albums. This is always fun for me...and also kind of bizarre. I found some cool pictures of my parents, including their wedding photos and pictures of them before they had us kids. I also found sheets and sheets of seriously awkward elementary school pictures. I don't know if it was on my own initiative (or my mom's sense of humor) to give me huge hair, put me in a lady suit that made me look like a linebacker, and adorn me with 20 accessories on picture day.
Anyways, I love this picture of my sister and brother for so many reasons. My brother has this smile in most of his baby pictures...he was such a cute little thing!
Taste:
Oh man, these are so good. Glazed Almonds w/Cranberries at Starbucks.
Feel:
I have no picture for what I'm feeling. My skin is dry and missing the Asian humidity. It's okay though...my skin loving this Curel stuff.
Smell:
My favorite car air freshener. I just got a car wash and busted this open and now my car feels brand new. Every time I jump in, I am nostalgic of this Sanrio gum I used to love when I was a kid.
Hear:
I just heard "Weak" on the radio this morning. That is a great song. (Can you tell I'm feeling nostalgic these days). Remember when Columbia Records would send those 'stamp sheets in the mail? They had pictures of all different albums on them, then you'd separate the stamps, pick the 10 CD's that you wanted, stick it on the reply and they'd mail you what you wanted? I think my sister did it once and got TLC, SWV, the 90210 soundtrack, and some others. I wonder where all those CD's went...