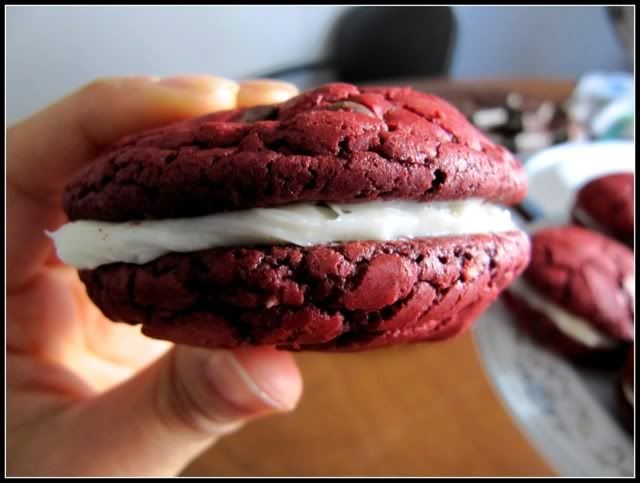 I made a batch of these the other day for work. The recipe was so easy I thought I'd venture into making my own frosting. This was a first as I'm pretty fond of marshmellow puff to top off my cupcakes. (I bet that would be dang good with these cookies). Anyway, it turned out to be pretty easy! These cookies can be eaten as is...they're chewy and pretty awesome on their own. Up the ante with the super simple frosting recipe below.
Red Velvet Cookies
(recipe via
howsweeteats
)


1 box Red Velvet cake mis
2 eggs
1 tspn vanilla
1/3 cup vegetable oil (I think I used canola)
3/4 cup choco chips

Mix all the ingredients (minus the chocolate chips) until incorporated. Fold in chocolate, roll into desired size, and bake in preheated 350 degree oven for about 8-11 minutes.

Cream Cheese Frosting
(adapted from
this
recipe--incorporated user comments)

1 8-ounce cream cheese package (softened)
1/4 cup butter (softened)
2 cups sifted powdered confectioners sugar (more or less depending on your taste)
1 1/2 tspn vanilla

Cream together cream cheese and butter. Add vanilla and then gradually stir in sugar.


*Make sure you don't overbake these! I did and ended up with a batch of red velvet biscuits. No bueno.