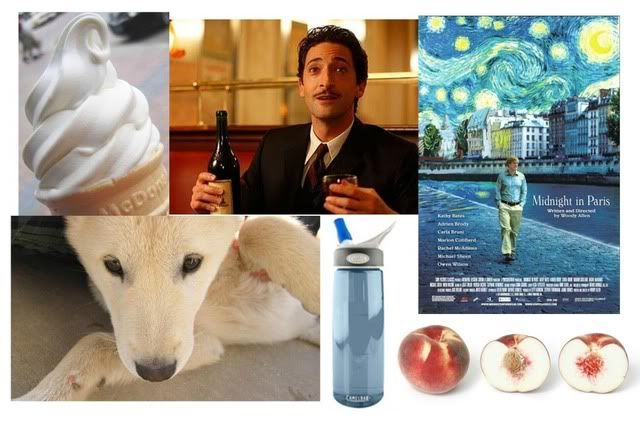 Taste:
I've had a cough for over a week. And nothing taste better (or soothes the throat) as good as a McDonald's ice cream cone. Especially when enjoyed after El Pastor Taco Tuesdays and in the company of good friends.
See:
Midnight in Paris
One thing I love about summer is the movies! The relief of a cool theater to escape summer heat, fresh popped popcorn, the anticipation of great movies and summer blockbusters. I continued my streak of good movies (after X-Men and Bridesmaids) with "Midnight in Paris." I didn't hear much hoopla about this one, but I enjoyed it so much. So charming and quirky--typical of a Woody Allen flick I guess. I won't hype it up too much, but I will say that Adrian Brody's role was genius and very well played! I want to see a full-length feature with him in this role.
Smell:
White peaches are in season. Yay! They taste as good as they smell. Scrumptious.
Feel:
I feel...hot hot heat, and have this nifty bottle pretty much glued to my hand.
And a picture of Pax...just because. He got neutered today and has to wear the cone of shame for 2 weeks. Breaks my heart.
Hear:
need some new music...any suggestions?