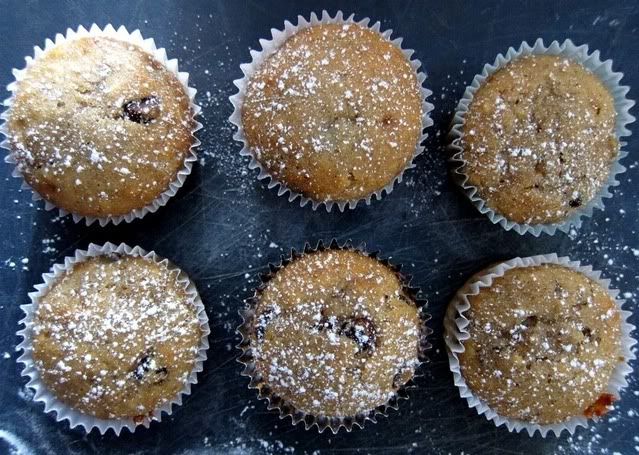 Got some overripe bananas? This recipe is amazingly simple; yet the bread comes out fluffy, light, and perfectly moist...no special equipment or fancy ingredients needed. I usually make them into loafs, but these portion controlled muffins made for a great dessert/breakfast treat.
You'll need:
2 cups flour
1 tspn baking soda
1 tspn baking powder
1 tspn salt
2 eggs
1 cup sugar
3-4 very ripe bananas
1 tspn vanilla extract
1/2 cup vegetable or canola oil
1 tspn cinnamon
*optional: semi-sweet chocolate chips tossed in a teaspoon of flour; confectioners sugar
1) Place peeled bananas in a small bowl and microwave for about 25-30 seconds. Mash with a fork and set aside to cool.
2) In a medium bowl, combine flour, baking soda, baking powder and salt.
3) In a separate large bowl, mix eggs and sugar together. Stir in the bananas, vanilla, oil and cinnamon, then add the flour mixture a third at a time. Mix to combine.
4) Optional: stir in chocolate chips. I forgot where I learned this, but if you toss the choco chips in a little bit of flour, they won't sink to the bottom when baking.
5) For muffins, bake at 325 for 18-22 minutes or until fluffy, and golden brown on top.
If you decide to make banana bread, divide batter into two 9x5 loaf pans and bake at 350 degrees for 50 minutes to an hour.
Recipe courtesy of
Cathy Lowe via the Food Network