For some reason, I had it in my mind that I wanted to make an onion dip for my dad's birthday last week. I searched for recipes and came across
this
one. It caught my eye because it contained balsamic vinegar and no mayo. The outcome was flavorful, healthy (onions and low fat sour cream can't be that bad, right?) and not to mention incredibly easy. The bowl was gone by the end of the night (that's always a good sign)...albeit I made a small bowl, I'm going to assume the guests liked it. :)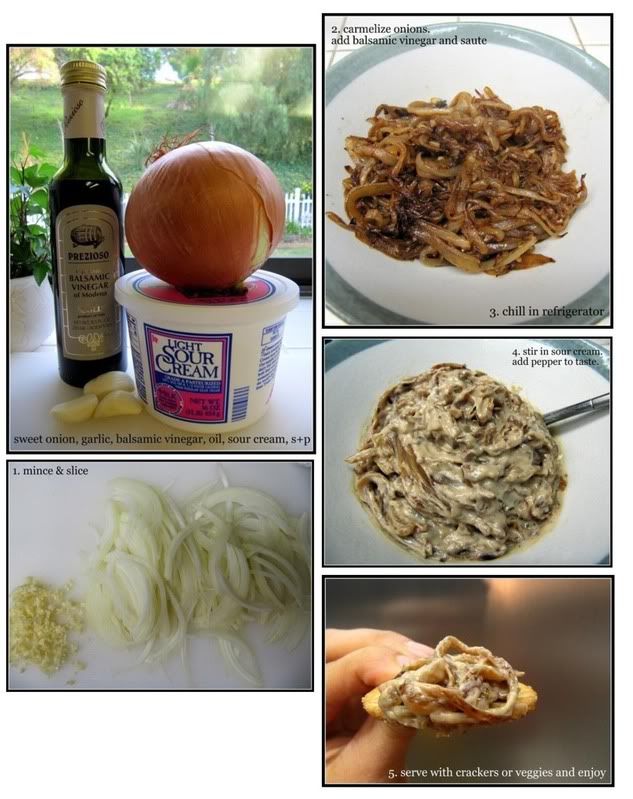 1. If you don't like the look of the long onions, you can dice your onion into small pieces. (The recipe says that you can also pulse it in a food processor).
I also made half the portion of the recipe but used 3 cloves of garlic...I like garlic.
2. Saute onions in oil over medium-high heat for about 10-15 minutes, stirring frequently. Add s+p, garlic, and balsamic vinegar and saute for 1-2 minutes longer. (I don't know if it was my pan but I had to add a few extra tbsp of oil to keep from burning my onions).
3. That giant onion turned into about 3/4 cup once it was out of the pan! Remove onions from heat and chill in refrigerator.
4. I only used about 4-5 tbsp of sour cream. You can vary the amount depending on the consistency you like.
5. enjoy!