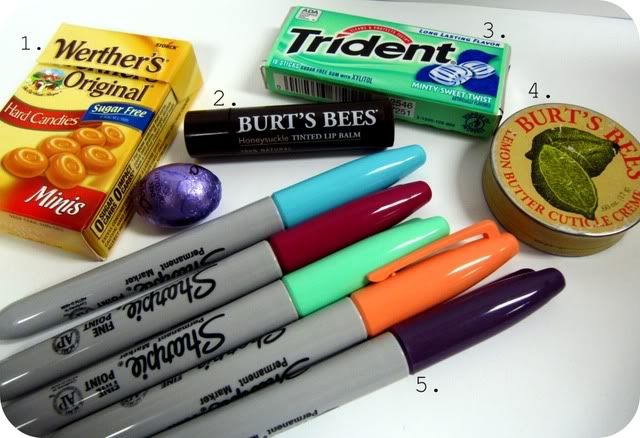 Just a few things I'm jiving with these days...

1. Werther's Sugar Free mini's...in a small, inconspicuous, wrapper-free packaging, and the last bit of Easter Candy leftovers (specifically these dark chocolate Dove eggs) satiate my increasing sweet tooth.

2. Burt's Bees Tinted Lip Balm in Honeysuckle is my go to lip balm these days. It's subtle color make for a nice summer alternative to a heavy lipstick.

3.I just discovered they sell my favorite gum at Smart & Final...in the 12-pack bulk. Yup, I bought it.

4. Lemon Butter Cuticle Cream: another Burt's Bee's wonder that has been saving my cuticles in this dry weather.

5.
Caribbean Color Sharpies: When it comes to markers, I'm like a 5 year old. I couldn't resist this arrangement.