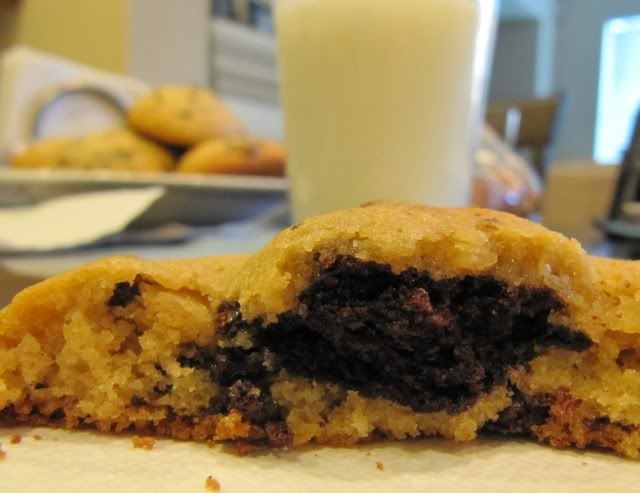 what's that you ask? It is...the perfect compromise, a midnight snack, a birthday treat, a tall glass of milk's best friend...a brownie...stuffed in a cookie.
I used Bakerella's famed recipe (found
here
) to make these monster cookies.
To make a batch of these for yourselves...you'll need:
1 package brownie mix (I used the guilt free ones from Trader Joe's--no one ever guesses)
1 cup butter, room temp
1 1/2 cups packed light brown sugar
2 large eggs, plus 1 egg yolk
1 tablespoon vanilla
2 1/2 cups all purpose flower
2 teaspoons baking powder
1/2 teaspoon salt
1/2 teaspoon baking soda
miniature semi-sweet chocolate chips
Make brownies and let cool. Cut into 1 inch squares.
In a large bowl, beat butter until creamy. Add brown sugar and beat. Add eggs, yolk, and vanilla and beat until smooth.
In a separate bowl, whisk together flour, baking powder, baking soda, and salt. Add flour to wet ingredients and mix till combined. Stir in mini choco chips. Cover and let the dough chill for at least an hour. After it's chilled, it will be less sticky and much easier to work with.
Assembling your brookies:
I found it helpful to do a little hamburger assembly action. I like to smoosh the brownie a little bit...it gives more of a brownie layer than a brownie bite. Delicious either way you do it.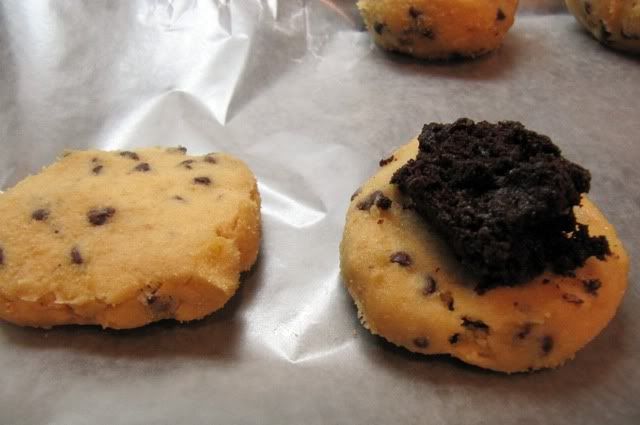 Close edges to make a cookie ball.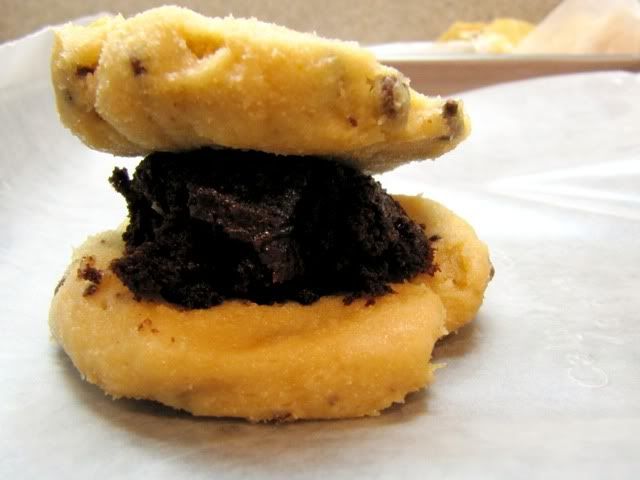 Tip: My first batch looked like an inverted thumbprint cookie. My boss (aka baker extraordinaire aka Asian Martha Stewart) advised me to freeze (or at least chill) the cookies in their assembled stage before baking...and success! Taking them from freezer to oven resulted in a more fluffy, pillow-esque cookie.
Bake at 350 degrees for 18 minutes and enjoy.
If you haven't before, check out Bakerella's website
here
for more recipes, pictures, and the most amazing cake pops ever.
P.s.: Need more cookie within a cookie, inception action? Take a look at
these!