I am an amateur cook if you haven't noticed. I gravitate towards simple recipes and when I saw this one on
Smitten Kitchen
, I had to try it. I read through her comments and modified it a bit to give it a little sumthin sumthin (i.e.: garlic). I was actually hesitant to post it because Deb's version looks so amazing... and my unevenly chopped potatoes looked so sad next to hers.
But then I remembered the wise words of my mother who reminded me that no good comes from comparing...and the old adage that the proof is in the pudding! So I will hold my chin up high, call my potatoes 'rustic,' and proudly present you with this recipe. :)
p.s: this pudding proves delicious.
You'll need:
3 tablespoons butter
3 tablespoons olive oil
1 lb. of small white potatoes (I liked these--the size was perfect and no peeling required)
1-2
Korean sweet potatoes
(this is the key ingredient! It blends in with the white potatoes but adds a unexpected "depth of flavor."--(Thank you
Padma & Tom
for that one)
Garlic...lots of it. I used 1 whole bulb, minced. Jarred crushed garlic works great too (about 3 tablespoons).
S+P (you can be a little heavy handed with the salt)
You can modify the proportions depending on how big of a baking dish you use. The measurements above are for a 8"x8'' baking dish
*Cut the potatoes in thin, even slices. (A mandolin is perfect for this recipe...and will cut your prep time significantly!) Set aside.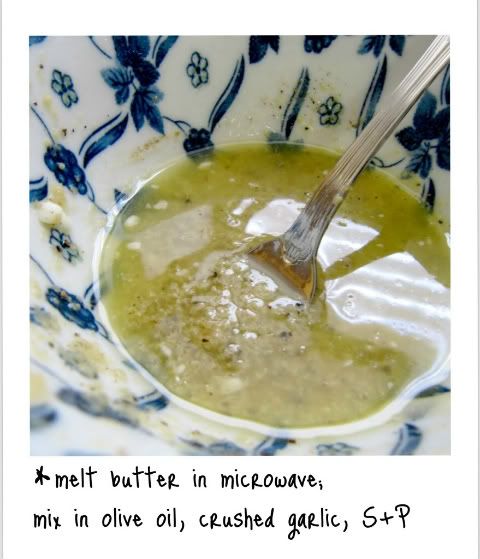 *Spread a thin layer of mixture inside and on the sides of your baking pan. Toss potatoes in remaining garlic butter/oil mixture.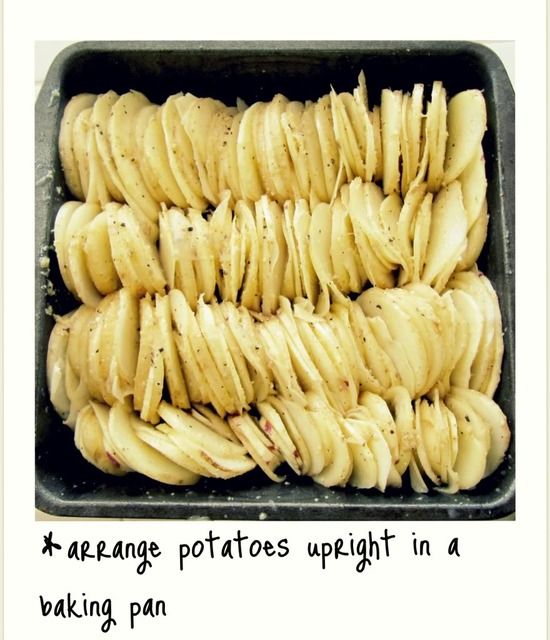 *You can also add thin slices of garlic in between your potatoes here. Brush any leftover garlic oil on top and in between potatoes.