Do I talk about my boss a lot? I'm going to talk about her some more. I stole this idea (as well as a few of the recipes) from her for my friend, Genie's, bridal shower a few weeks back. I am loving the idea of 'bars' more and more...dessert bar, parfait bar (thanks for the idea Joanna!), crostini bar, etc. Maybe it's the variety, the freedom to choose and 'cook up' something on your own, or purely aesthetics. The beauty of this one is that you can make it as homemade or store bought as you want.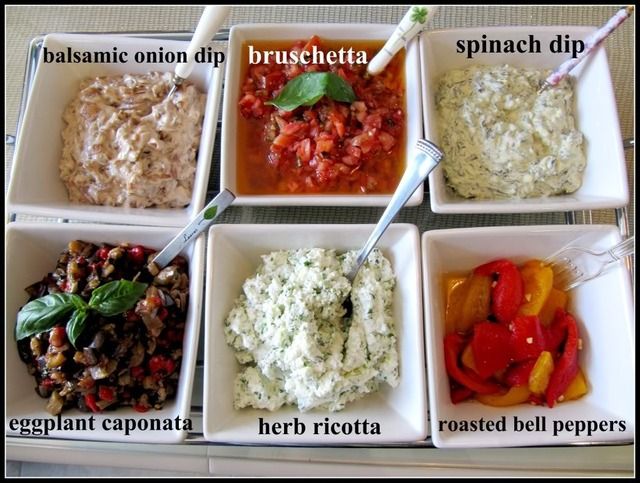 You can find the recipes for the above here:

Balsamic Onion Dip
Bruschetta
Eggplant Caponata
I bought my
Spinach Dip
and
Roasted Peppers
(in a jar) from Trader Joe for the sake of time (actually the bruschetta that's pictured as well). It's best to use a Spinach Dip that can be served cold for this...recipe to come!
Herb Ricotta
...my favorite! (below)
Combine:
2 cups ricotta cheese
3 tablespoons minced scallions (about 2 scallions, white and green parts)
2 tablespoons minced dill
1 tablespoon minced chives
1 tsp salt & 1/2 tsp pepper (more to taste)

(recipe via Karena via Costco Connection)

Serve alongside crostinis and/or crackers. Enjoy!

To make crostini:
Thinly slice french baguette. Brush with olive oil and season with salt + pepper. Bake at 375 degrees for 10-12 minutes or until golden brown.