Fall is near. And these mini pumpkin pies are adorable (and tasty too).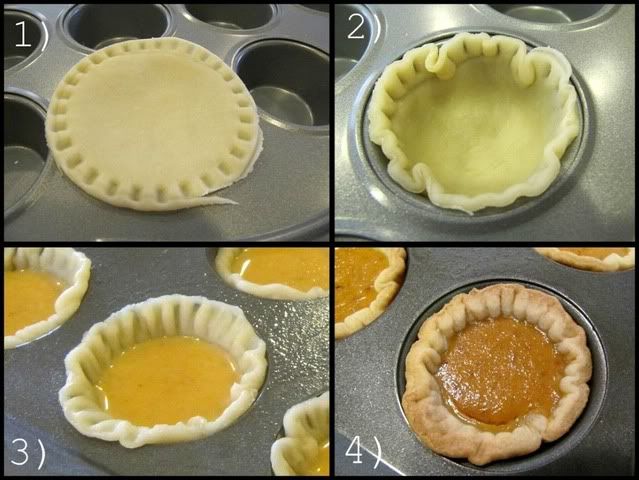 This was my first time making pie from scratch...and surprisingly, it was a lot easier than I expected. It helped doing it alongside some excellent baker friends, but I feel good about adding this to my baking repertoire. :)
1) Roll the dough for your pie crusts.
This
pastry crust instruction is great (this makes enough for about 72 mini pies so feel free to cut it down)
After you prepare your dough, flatten and cut circles with a biscuit cutter (or cookie cutter or small cup) to give you circles that are slightly bigger than the muffin mold.
2) Press dough inside the muffin molds. Chill in the refrigerator.
3) Prepare your pie filling. The options are endless here, but we opted for a Pumpkin Pie filling
Pumpkin Pie Filling
recipe via here (also on the side of the Libby's can!)
3/4 cup granulated sugar
1 teaspoon ground cinnamon
1/2 teaspoon salt
1/2 teaspoon ground ginger
1/4 teaspoon ground cloves
2 large eggs
1 can (15 oz.) Libby's 100% Pure Pumpkin
Combine dry ingredients in a small bowl. In a separate large bowl, beat eggs lightly. Add pumpkin and dry ingredients and stir. Gradually mix in evaporated condensed milk.
Fill the pie crusts. Here's a clean and efficient way to fill your pies: use a baster! (
Erica
's genius idea)
Bake at 350 degrees for about 15-20 minutes or until crust is golden brown; top off with whipped cream and enjoy.