I spoke too soon about those illusive warm summer nights. Last night was 80 degrees at 9pm...and spent well with good friends, girl talk and frozen yogurt.

Anyways, here's an ode to summer fruits and tasty cheeses. A curious and delicious combination I never experimented with much before. Although the more I think about it, just makes sense--brie and jam, tomatoes and mozzarella.
My boss (who you'll hear me mention quite a bit--I steal all her recipes) brought in fresh picked figs and whipped us up a simple salad.
You'll need:
Fresh figs
Arugula
Goat cheese
Prosciutto
Balsamic Vinegar
Extra Virgin Olive Oil
S+P
Pre-heat oven to 275 degrees.
Slice figs in half. Spread a layer of goat cheese on the open side of the fig and wrap the whole thing in a piece of prosciutto. Warm prosciutto wrapped fig in the oven for just a few minutes, till goat cheese is softened (just a 1-2 minutes).
In a bowl, toss arugula leaves in a olive oil and S+P.
To arrange, place some of the arugula leaves on bowl or plate. Place fig on top and drizzle with balsamic vinegar. It's the perfect combination and would make a great appetizer or snack. (Thanks Karena!)
Had this Watermelon & Feta Salad at an event at work. (I loved the little glasses they were served in...such a fun idea!)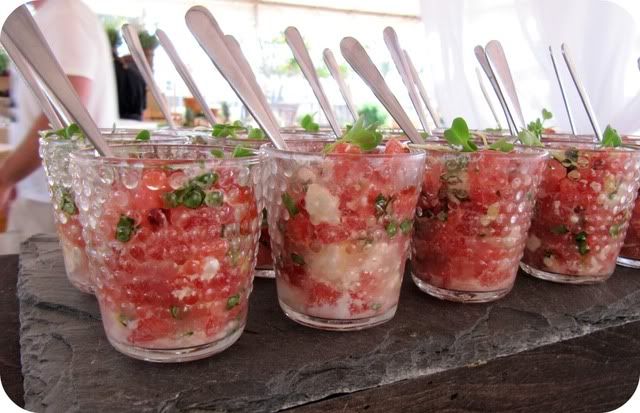 Combine:
Watermelon, cut into cubes
Feta Cheese crumbles
Fresh Basil cut into strips
Pepper
a splash of Balsamic Vinegar (optional)
Do you guys have a favorite cheese and fruit combination?