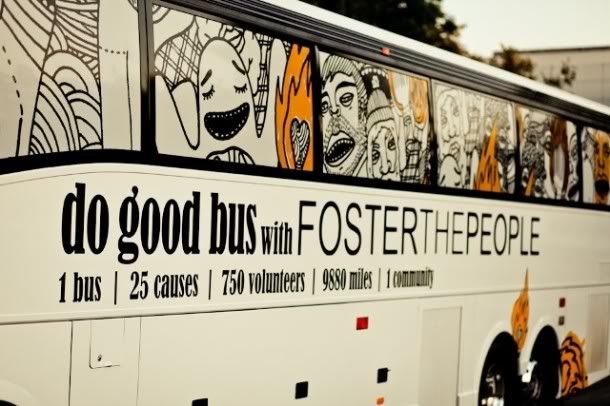 Anyways, Rebecca is one such person. Her mind seems to continually spin out new ideas. She takes Polaroids of all her house guests and posts them on a wall, has a keen eye for the quirky & little things, has lived in Australia (and ended up working the 2000 Olympics), is on the board for
Friends of El Faro
, started
LA Guerrilla Gardening
, and in an old fashion kind of way, just works hard for what she wants. A lady of action and overall creative type in a few words or less. Oh and her brother is rock star. Literally. She recently got back from a 40 day tour with her brother's band,
Foster the People
, where she organized volunteer projects in every city they performed, via another one of her projects, the
Do Good Bus
(watch the video and believe).
I took advantage of the opportunity to pick her brain and ask her a few questions so you can get to know her as well. I don't think she tries, but she's pretty darn inspiring.


What is the Do Good Bus?
The Do Good Bus was an idea inspired by a party bus on my 30th birthday where groups of friends from various circles came together to celebrate. And by the end of the trip, whether they initially knew each other or not, had created a little community. My business partner, Stephen, and I met each other volunteering and over the years have continually been asked, "How do I get involved? How do you know where to volunteer? How do you do it?". So we took the idea of creating community among strangers and giving back in your own neighborhood -- and threw people on a bus to show them how to do both.
What inspired you to do this? What drives you in general?
For me personally, I wanted to "do good" and give back, but more importantly I wanted to create an experience for people; a way to meet like-minded people in a city that typically doesn't make that easy. I really felt like Los Angeles needed (and still needs) a sense of community. What drives me in general? Creative projects and overcoming challenges. I thrive on a little stress and an urgency to make something happen.
What are you most looking forward to?
In life? Falling in love. Professionally? I'm notorious for always looking for what's next. Even to a fault sometimes. So I think I'm most excited for whatever my new project will be. And what's most exciting about that statement is MY. It's been so amazing to have something that I can call mine and implement exactly the way I feel is best.

What is the craziest thing/or most memorable thing that has happened since you Do Good Bus fruition?


Being a part of the Foster The People tour and having the opportunity to travel with my brother has been pretty crazy. But in the best sense of the word. We came with an idea, we worked hard to make it happen and then it did. That's crazy to me when I really sit and think about it.
What's been the hardest?
Knowing when to take a break. There's so much work behind what we do and I'd like to be better about taking some time to just breathe.
Where do you tell visitors from out of town they must visit when they visit Santa Monica?or Must east restaurants in Santa Monica/LA?
My favorite thing to do in Santa Monica (well, it's not technically Santa Monica) is hike the Misha Mokwa trail. It's up by Neptune's Net, a great biker bar on the PCH. So you spend a half day climbing the highest peak in the SM Mountains and then end the day with peel-and-eat shrimp, corn on the cob and cold beer at Neptune's Net. Also, when people are in town I try to encourage them to just ride their bike around Santa Monica -- it really is gorgeous.
Learn more about the Do Good Bus and upcoming rides (12/17!)
here
. You can also follow Rebecca's adventures, funny stories, and epiphanies on her blog,
Sunshine of the Day
.