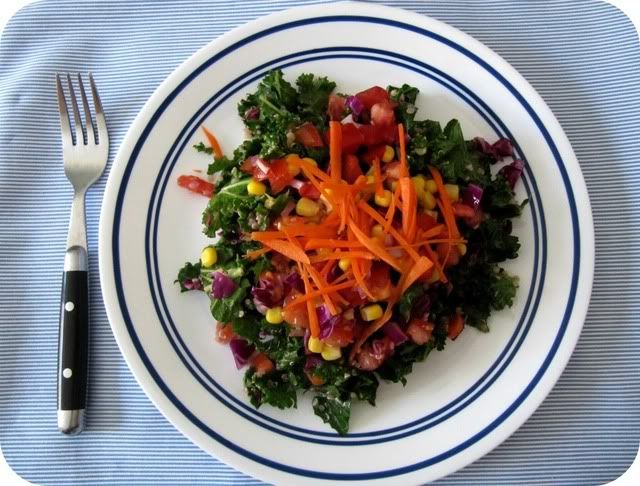 I'm addicted to kale. Or I should say...I'm addicted to this salad.
I first had it at the
Veggie Grill
...it's healthy, filling, and so beautiful don't you think?
I'm kind of in this phase where I'm eating this salad more than I'd like to admit, for no other reason than that it tastes so good. (the good for you part is just an added bonus, as is the pretty presentation--look at all those colors!). Anyways, I love the Veggie Grill, but daaayam, ordering salads a few times a week was getting expensive. So, I was happy and eager to try
this
recipe when I found it online.
My palms were sore from juicing so many limes, but the result was so worth it. I have dressing to last and have been able to eat my kale whenever I want.
Another reason to love this salad? Leftovers taste great. Kale is incredibly resilient and its leaves won't wilt on you day 2, 3 or 4 (so feel free to make a big batch to last you). In fact, letting it marinate in the dressing for a few hours before eating is recommended. I changed it slightly, but here's the recipe below!
Enjoy :)
Ingredients - 8 servings
6 bunches kale (Trader Joe's is great and has pre-washed, pre-cut Kale)
2 cups red cabbage
2 cups cooked quinoa
shredded carrot for garnish
2 cups corn salsa (see below)
Walnuts (optional) - The restaurant also glazes them in agave (
here's
a good recipe)
Ginger Papaya Vinaigrette (see below)
Corn Salsa
8 Roma tomatoes, diced
1 cup red onion, diced
1/2 cup cilantro
1 cup roasted corn (canned also works)
2 tsp salt
1 tsp black pepper
2 oz. lime juice (about 4 tbsp)
Ginger Papaya Vinaigrette
(I cut the sugar and oil in my dressing and really liked the way it came out; my proportions are in parentheses)
1/3 cup fresh ginger root
1 cup lime juice
1 1/2 cups fresh papaya
1/2 cup rice vinegar
1 T sea salt
1 1/4 cups Evaporated Cane Juice - which is just a 'healthier' alternative to sugar--looks just like sugar. (1/2 cup)
3 cups canola oil (1 1/2 cup)
Vinaigrette:
Peel ginger root and papaya and chop into blender friendly squares.
Combine all ingredients (minus the oil) and blend until smooth. Slowly drizzle in oil and continue

to blend until dressing emulsifies.
Salad:
Remove spines and stems from Kale and chop into 1" squares. Wash and dry.
Place kale, chopped cabbage, and cooked quinoa in a container tossed with the dressing. Let marinate and refrigerate for at least an hour before serving.
Corn Salsa:
Chop ingredients and combine in a large bowl.
To assemble salad, toss marinated kale and corn salsa. Add 4 cups to a plate, walnuts, and an extra drizzle of dressing. Garnish with shredded carrot and cilantro.