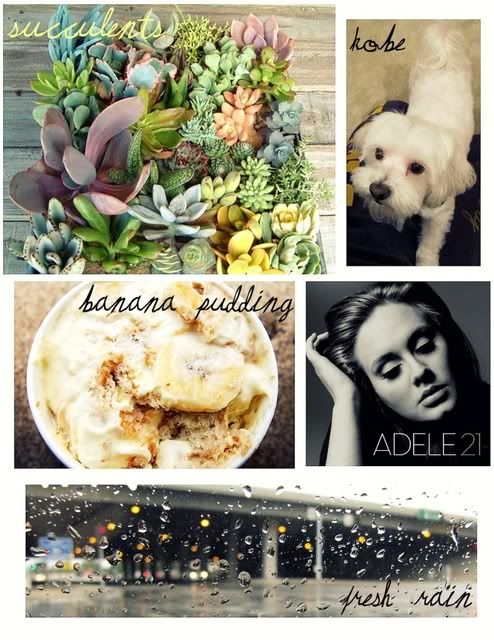 See
: I am a big fan of succulents. I love their bold yet simple characteristics. My mom is big on gardening and has what seems like 20 varieties of succulents planted throughout her backyard, lining the edges of her garden and standing guard in front of her delicate freesias and daffodils. I'm currently growing one on my desk (6 months and going strong). I'd love to grow an arrangement like the one above.
Touch
: That's my housemate, Kobe. I snapped a picture of him in a rare moment where he is not trying to lick my face, hand, or the air around me. He's big on snuggling and was recently groomed...soft as a puppy. I love that.
Hear
: I want to listen to her music while I drive, sit in traffic, go for a jog, play air piano and drums in the car...I dig the water
cups
.
Taste
: I recently discovered that there is a
Magnolia Bakery
in LA. I asked for their best seller and without hesitation was given the banana pudding. seriously,
crazy delicious
.
Smell
: Never really appreciated this before, but with all the rain we've been getting, I've been loving the smell of the air afterwards. It's crisp, earthy, refreshing and different each time.