I don't cook. My mom is an excellent cook and can whip up something delicious with a hodgepodge of ingredients in record speeds. But me...cooking means heating up frozen delicacies from Trader Joe's (there's some good stuff, let me tell you) Anyway, I thought I'd build up my recipe arsenal and give this
recipe
a try.
My main squeeze, Abe, is very encouraging of my cooking endeavors. I appreciate his emphatic ooooh's, Mmm's and attention to detail (why, yes! I did caramelize those onions in your sandwich!) even when I know the food isn't the best (bless his heart)--one reason I didn't mind him being the guinea pig for these Chicken Lettuce Wraps.
I liked the relatively short & simple ingredient list.
After I washed and chopped all the ingredients, it was just a matter of throwing it in the pan at the right time. I, of course, added a few extra cloves of garlic. Next time, I'll add some more bell peppers and green onions.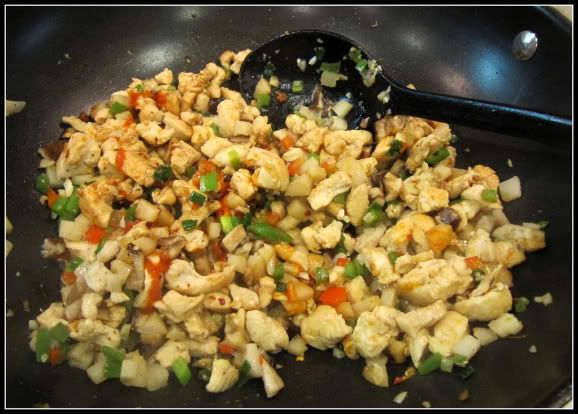 I followed other reviewers' recommendations and added some low sodium soy sauce, red pepper flakes, and Siracha Sauce. I also used less oyster sauce and orange zest. *Make sure to give your veggies enough time to cook without over cooking the chicken.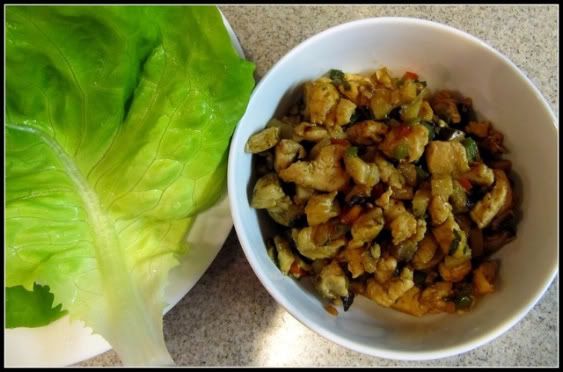 I served it with butter leaves instead of iceberg, although I'm sure the latter would have been crisp and delicious as well. The verdict? Light & easy. I liked that I was able to whip these up fairly quickly; it left us satisfied (not groggy) and made tasty leftovers the next day. And the kicker: Abe liked them...I'll consider this one a success.