I'm hooked on making granola. I made one version (found
here
); the final product made for a great cinnamon-y snack, but I wanted to find a recipe that would give me those crunchy clusters that I associate with granola. I found
this
recipe that was even simpler than the last and took about half the time to bake. I cut the salt in my version, as I found 1 teaspoon to be a bit too much for my taste and changed some of the fixings. Feel free to get crazy with your fruit and nut combinations. Enjoy!
Ingredients:
2 cups rolled oats
1 t cinnamon
1/2 t salt
3 T plus 1 t oil
1/4 cup honey
1/4 cup packed light brown sugar
1 t vanilla extract
1/3 unsalted slivered almonds (I used toasted)
1/3 cup cranberries
1/3 cup dried mangoes cut up into small pieces
I also like to add about 1/4 cup of sunflower seeds (optional)
To start, preheat oven to 325 degrees F and line a baking sheet with parchment.
In a big bowl, toss the oats, cinnamon and salt.
In a separate bowl, mix the oil, honey, sugar and vanilla till completely combined.
Pour the honey mixture over the dry ingredients. Using your hand, mix the ingredients--grabbing some of the mixture and making a fist makes for those delicious granola clusters.
Spread the mix onto your baking sheet and bake for 10 minutes. Remove from the oven and toss using a spatula. Add nuts and bake for another 5 minutes. Remove and toss again. (This is important as the edges tend to cook/burn faster. Bake for another 5-7 minutes.
Let cool completely, then toss with dried fruit.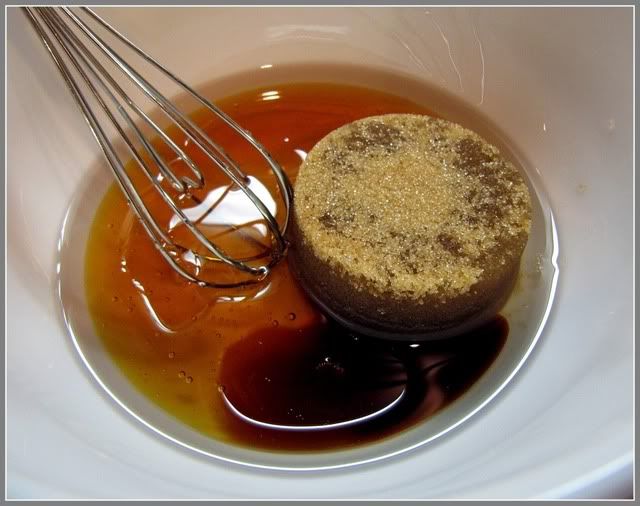 I like this aroma...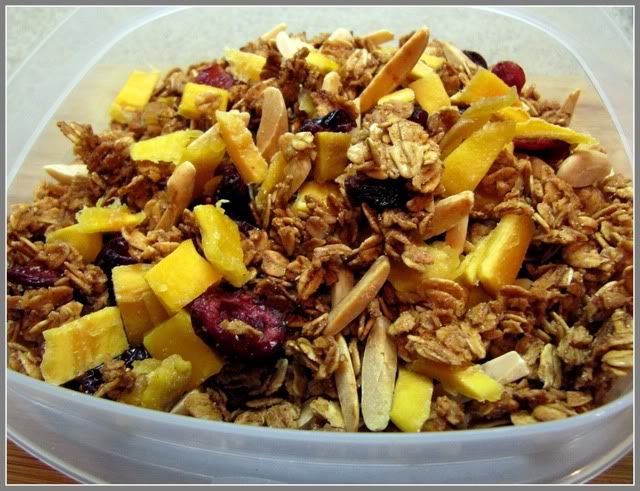 The outcome is highly addicting (and full of clusters) and one I'd be proud to bring to breakfast. I think I'll add dried blueberries to the mix next time.
Next on my granola recipe queue...
Peanut Butter Granola.